E-Book Available Here:
Kindle US | Kindle UK | Kindle Canada | Nook | Kobo | Apple iBook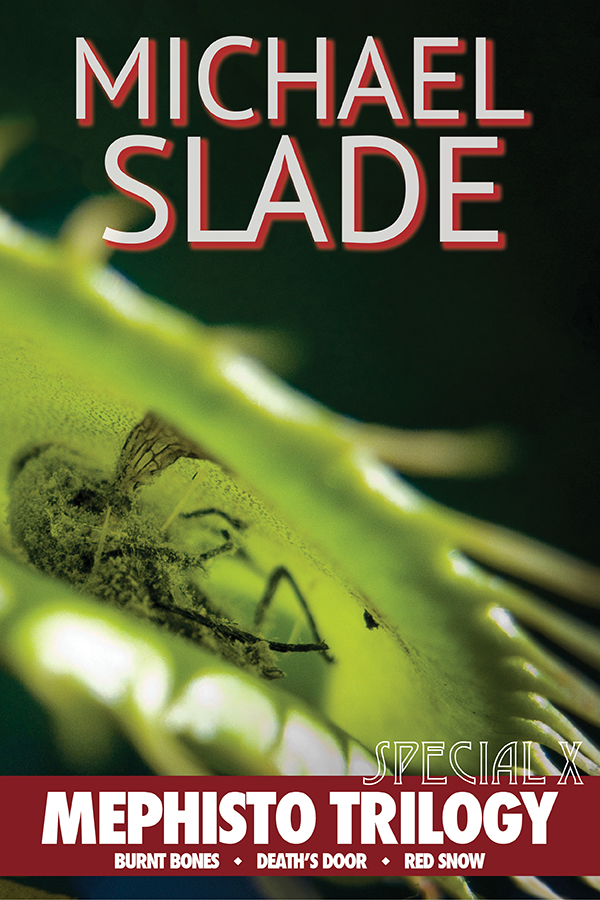 THE MEPHISTO TRILOGY pits the Mounties of Special X against a psychotic archenemy in this trio of dark thrillers by criminal lawyer Michael Slade. In BURNT BONES, Mephisto's madness fixates on the mystery behind Stonehenge and the legendary Highland Hoard of ancient raiders on Hadrian's Wall reputed to solve it. When the madman kidnaps a Mountie as leverage in his hunt, he squares off against Chief Superintendent Robert DeClercq in a deadly battle of wits. In DEATH'S DOOR, Mephisto wants revenge on Special X. Hijacking an Egyptian mummy rumored to be "the fountain of youth" gives him the means to cripple DeClercq closer to home. In RED SNOW, the adversaries face a showdown on the bloodstained slopes of the Winter Olympics, where a string of fiendish mantraps pick off the Horsemen one by one while DeClercq struggles to outthink this shape-shifting megalomaniac in his winner-take-all contest of whodunit, locked room, and dying message puzzles. Meanwhile, the mercenary Icemen close in to rig the outcome.
"BURNT BONES introduces the psycho to end all psychos. Mephisto makes Hannibal Lecter seem like an Oxford don with slightly unorthodox culinary tastes." - The Vancouver Sun
"Michael Slade's books are blood-chilling, spine-tingling, gut-wrenching, stomach-churning, and a much closer look at the inside of a maniac's brain than most people would find comfortable - but always riveting." - Diana Gabaldon
"A cracking good detective story. Slade gives shock horror a chilling new dimension. I'll never look at the Winter Olympics in quite the same way after reading RED SNOW!" - Anne Perry
"RED SNOW is crisply-written, sly and exciting. Slade is a writer who clearly knows how to tell a story and make it real. A warning: it's not for the squeamish, or for those who suffer from chionophobia (the fear of snow, red or otherwise)." - Robert McCammon
"RED SNOW is Slade in top form with his trademarked relentless pacing and one of the most ingenious and unsettling murder weapons ever imagined." - F. Paul Wilson
Michael Slade has acted in over a hundred murder cases. He specializes in the law of insanity. Slade argued the last hanging appeal in the Supreme Court. Because his police procedurals fuse crime and horror, he was guest of honor at the World Horror Convention and guest speaker at both the international Police Leadership Conference and several RCMP regimental dinners. Reader's Digest says: "The Slade books have developed a strong following among police officers because of their strict adherence to proper police procedure."