E-Book Available Here:
Kindle US | Kindle UK | Kindle Canada | Nook | Kobo | Apple iBook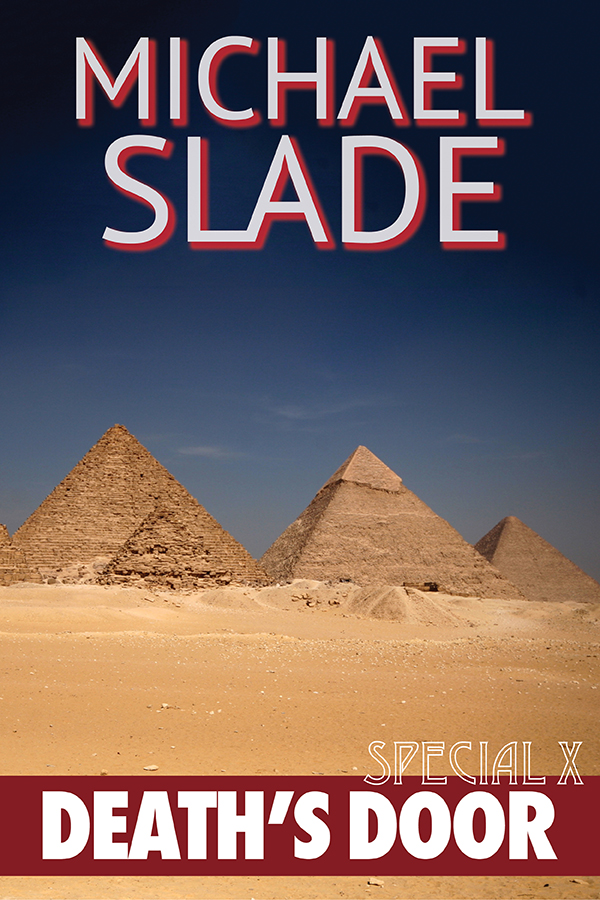 It starts when a priceless Egyptian mummy is stolen in England during a heist that incinerates eight security guards. Scotland Yard thinks the hijackers' motive is the fortune in jewels hidden under the mummy's fetid wrappings.

But the cops are wrong.

Next, the mutilated bodies of missing Hollywood stars are found dumped on the beaches of islands in the Pacific Northwest. The Mounties of Special X – the psycho-hunters of the RCMP – and the San Juan County Sheriff's Office think they're victims of a serial killer.

But the cops are wrong.

When C/Supt. Robert DeClercq and his team corner a gang producing made-to-order snuff films, they think they're plumbing the darknet's sickest depths.

But the cops are wrong.

A psychotic monster even more depraved is stalking

them

, and waiting to pounce the moment they follow the clues through Death's Door …
"DEATH'S DOOR is a Grade A thriller. Slade has finely honed his skills: twisted, omnipotent villains, brutal violence, sharp plot twists, solid (and enthralling) historical research, the latest in high-tech crime-fighting techniques. Cliffhanger rushes headlong into cliffhanger. You'll be up all night reading it." - The Vancouver Sun
"DEATH'S DOOR is not your typical serial killer thriller. The bad guys are REALLY bad. The murders are described with great detail, so it's not for the faint of heart. We're also given an in-depth look at what's involved in the cyber side of tracking killers. All in all, a very satisfying read. Graphic? Yes, yes it is. Fun? Yes, yes it is!" - Crime Spree Magazine
"There are psycho thrillers and there are psycho thrillers, and the ones to watch are those by Michael Slade. This high-powered mystery stars a psycho so heinous that you might want to take a deep breath before starting this baffling case. Here's a story to be read with caution." - The Ottawa Citizen
"There isn't a precedent for the barbaric brilliance of a Slade novel. With its well-researched, candid ventures into the most deranged of sick psyches, DEATH'S DOOR is a witches' brew of intense intellectualism, police procedure, and white-knuckle, wince-inducing gore." - Rue Morgue
"To put it bluntly, Slade is not for wimps." - Fangoria
Criminal lawyer Michael Slade has acted in over a hundred murder cases. He specializes in the law of insanity, and argued the last hanging case in the Supreme Court.

Reader's Digest

says: "The Slade books have developed a strong following among police officers because of their strict adherence to proper police procedure." Slade was guest speaker at the international Police Leadership Conference and at several RCMP regimental dinners, and was guest of honor at the World Horror Convention in Seattle.